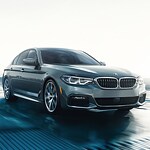 The BMW 5 Series is a luxurious but athletic sedan. With a comfortable, quiet, and intuitive cabin, BMW 5 Series owners love how smooth it feels to drive the powerful sedan. It's thrilling and agile, and each 5 Series edition comes with a powerful engine and powertrain. At the base, you'll get 248 horsepower and an intercooled turbo engine. There are multiple trims including the 530i, 540i, and M550i.
The base trim gets up to 36 mpg on the highway. The higher trims have twin-turbo 4.4-liter V8 engines that deliver up to 617 horsepower. There's also a plug-in hybrid trim and gets up to 248 horsepower. It's also the most gas-friendly of the options. There are a few different technology packages, but all editions include a rearview camera, blind-spot monitoring, lane departure warnings, and smartphone integration for hands-free voice controls.
It's fun to drive a car that listens to you and lets you enjoy the curves of the road comfortably. You can test drive the latest BMW 5 Series when you stop by Newbold BMW located centrally in O'Fallon, IL.