Tire Rotation Service in O'Fallon, IL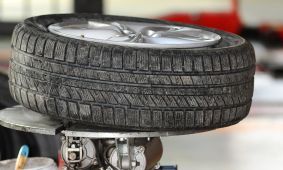 While you are making your daily commutes, you depend on your tires to withstand all road conditions no matter the instance. However, sometimes you may find yourself slipping or skidding, and rotating your tires every now and then is an easy way to regain the traction that you deserve while keeping your current set in great shape. You can get that taken care of here at Newbold BMW. Simply give us a call at 618-628-7300, we are ready when you are!
With all of the wear and tear your tires endure, it is essential that you get them rotated every six months. This simple maintenance allows your tires to maintain their tread for a longer period of time, so you don't have to spring for a new set just yet. Especially living in the Midwest, your vehicle has to handle all sorts of weather conditions that have an effect on your rubbers. Snow, rain, ice, and scorching pavement are all factors we have become familiar with, so it is a good idea to come for a rotation twice a year. Keep in mind, the front set loses their traction more quickly than the rear, so make sure you take peek at them from time to time.
If you are not sure when you should bring your vehicle in, the best place to check is your Owner's Manual. However, a simple timeline that many customers follow is every 3,000-6,000 miles. You can also opt to combine a tire rotation when you get your oil changed, which also falls within the 6 month period of time. Making an appointment can be done one of three ways for your utmost convenience. First, you can always phone us and one of our representatives will work with you to schedule a time that suits you best. You can also navigate to the top of your screen, click the Service tab, then select the Schedule Appointment form to do it through your computer. If you are feeling lucky, you can also come on in and see if we have a slot open for you to get it taken care of on the spot!
Are you ready to take to the streets with tires that grip the pavement with every turn? Stop by and visit us at Newbold BMW for a tire rotation service in O'Fallon, IL! We are located at 1283 Central Park Drive in O'Fallon, IL, and look forward to getting you back on the road with the utmost safety!
Testimonials
"Amazing Personal Service--I'm a Raving Fan!"
DEALERRATER
December 15, 2017
SIMPLE
CARS
December 13, 2017
"SIMPLE"
DEALERRATER
December 12, 2017
"The Total Package"
DEALERRATER
December 11, 2017
"2015 428i gran coupe fan"
DEALERRATER
December 11, 2017
"It doesn't get any easier"
DEALERRATER
December 9, 2017
absolutely incredible
CARS
December 7, 2017
GOOGLE
December 7, 2017
GOOGLE
December 7, 2017
"absolutely incredible"
DEALERRATER
December 6, 2017
"Fourth Lease"
DEALERRATER
December 4, 2017
"Purchased 2005 Toyota Camry"
DEALERRATER
December 4, 2017
"Attentive without sales pressure."
DEALERRATER
November 29, 2017
"New car"
DEALERRATER
November 27, 2017
"Not your typical dealership"
DEALERRATER
November 25, 2017
"First BMW"
DEALERRATER
November 24, 2017
First BMW
CARS
November 24, 2017
X5d Lease
CARS
November 23, 2017
Great Service!
CARS
November 22, 2017
"X5d Lease"
DEALERRATER
November 22, 2017
Read More
BMW Service Hours
(618) 628-7300
| | |
| --- | --- |
| Monday | 7:30 am - 6:00 pm |
| Tuesday | 7:30 am - 6:00 pm |
| Wednesday | 7:30 am - 6:00 pm |
| Thursday | 7:30 am - 6:00 pm |
| Friday | 7:30 am - 6:00 pm |
| Saturday | Closed |
| Sunday | Closed |